Some children's books, like the one I mentioned before are annoying because their pictures show things I don't like, like old pretty buildings being torn down and replaced by ugly modern office complexes. Other children's books have pictures that are downright twisted when you think about them.
The Girl wants to be read to all the time and I try to reshuffle the books, so that I'm not always reading the same ones. I pulled out Richard Scarry's First Words and was a bit disturbed when I got to the page that reads, "At the butcher shop they buy ham for their picnic." The picture shows the butcher standing in front of the shop with ham, sausage and bacon in the window.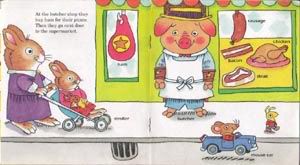 Richard Scarry draws all sorts of animals. Why did he make the pork selling butcher a pig? Sure, the cognoscenti say one pronouces his name "SCAR-ee" but I think I'll back to saying "Scary."