I read a lot of books to the kids and since The Boy had a great interest in all things vehicular for the first several years, we seem to own practically every car, truck, train, plane or boat book known to man. Which means, whatever The Girl may really be interested in, she has inherited a large selection of board books on the above subjects. One that both of them like/liked is
Byron Barton's Machines at Work
, which deals with a nicely mixed (along racial and gender lines) work crew building what appears to be an office building. The sad thing is that the book begins with this: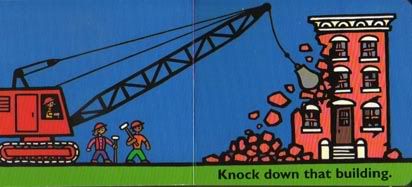 and this is what they are building: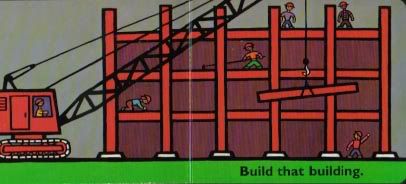 So, I, who like old buildings and historic preservation, keep reading and reading a book in which they tear down the pretty old building and raise up another monstrosity. What a great lesson to teach the kidlets. Fortunately, I doubt they are reading the subtext and drawings quite so closely as I.