Last week, we were away visiting in my hometown in the middle of
Amish country
. When we first moved to the area many years ago, the hitching areas at the grocery stores and public library seemed quaint and a bit amusing to one unused to such things. Later, I didn't even blink an eye.
Last week though the sight of this --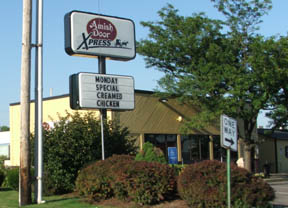 -- an "Amish" fast food restaurant, made me giggle. We especially laughed at the other side of the sign, which mentions their mocha latte special.