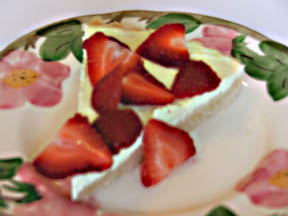 A while ago, my friend Meredith was talking about
good breakfasts
for those mornings when it is too hot to cook anything. Sometimes it does just feel way too hot to contemplate eating hot food. Of course, there is always cereal with cold milk, but that gets boring really quickly.
So just in case you are wondering,
cheesecake tart
with berries on top makes an excellent cool breakfast. Berries, cheese, eggs -- it's almost as good as
Bill Cosby's chocolate cake
.