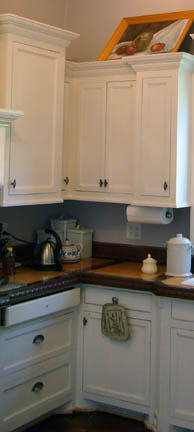 Yesterday we passed our electrical inspections and my husband called for the final inspection upstairs. I didn't expect them to schedule it so soon, but the codes inspector arrived today. He looked around, checked things out and passed everything. So all our permits are finally closed out. We can unpack the upstairs and finally put the kids in their rooms. The oldest is especially thrilled at the prospect of not rooming with his sisters for the first time in over a year (and who can blame him?). After all this time, I'm really looking forward to unpacking and settling in.
And on another house note, thanks to
Jeanne
for making me glad we put in wooden and not
granite countertops
.